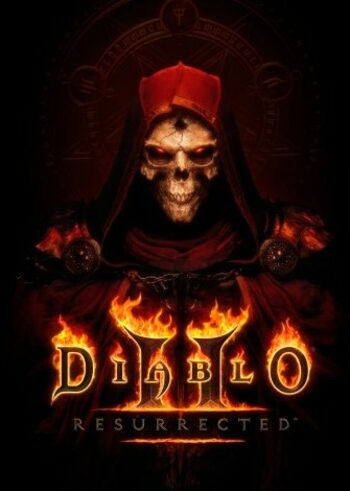 Buy Diablo 2 Resurrected key
Modern standards
Discover the world of Sanctuary and see classic locations and characters looking better than ever. All monsters, items, and heroes are remastered, while the 2D world has been recreated in 3D to match modern standards. Diablo II: Resurrected features 4K resolution, an improved user interface, and new cinematics as well. Moreover, you'll enjoy re-recorded sounds that let feel the game's atmosphere perfectly.
Engaging story
Follow the story included in the original Diablo II game and Diablo II: Lord of Destruction expansion pack. As a brave adventurer, you will face Diablo and his malicious brothers: Baal and Mephisto. During your epic quest, you'll fight countless hordes of monsters and visit hell itself.
Beloved gameplay
Choose among seven diverse classes, including the Amazon, the Necromancer, the Barbarian, the Sorceress, the Paladin, the Druid, and the Assassin. Each of them has different strengths and weaknesses that determine your playstyle. Use unique skills to slay monsters and get treasures. Most of the gameplay stays intact, but you'll certainly cherish improvements such as an expanded stash.
Play online
Fight alone or alongside your friends. Enjoy the updated Battle.net support included in Diablo II: Resurrected. It allows creating a team of up to eight players.
STORE NAME
DESCRIPTION
ADDITIONAL INFO
PRICE
More Detail

Diablo II: Resurrected PC (EU)





8 Reviews

33.29€

Diablo II: Resurrected PC (EU)

More Detail

Diablo II: Resurrected (Europe) (Battle.net)





2 Reviews

37.17€

Diablo II: Resurrected (Europe) (Battle.net)

Premium

More Detail

Diablo II: Resurrected PRE-ORDER EU Battle.net CD Key





10 Reviews

6% coupon: GCP6

35.71€

Diablo II: Resurrected PRE-ORDER EU Battle.net CD Key

More Detail

Diablo II: Resurrected PRE-ORDER EU Battle.net CD Key





3 Reviews

6% coupon: GCP6

35.71€

Diablo II: Resurrected PRE-ORDER EU Battle.net CD Key

More Detail

Diablo 2: Resurrected





1 Reviews

39.95€

Diablo 2: Resurrected

More Detail

Diablo 2: Resurrected PRE-ORDER Battle.net CD Key





4 Reviews

6% coupon: GCP6

37.59€

Diablo 2: Resurrected PRE-ORDER Battle.net CD Key