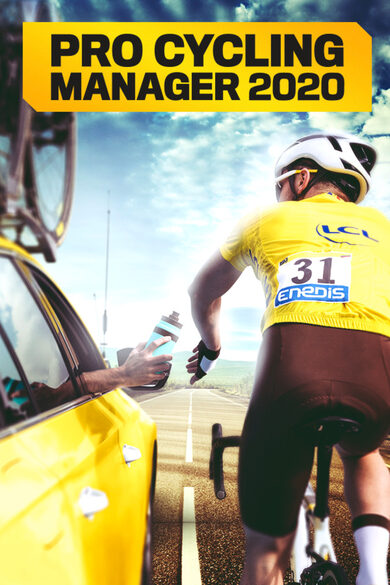 Buy Pro Cycling Manager 2020 Steam key
Buy Pro Cycling Manager 2020
Do you want to virtually become the manager of a pro cycling team? Do you want to make your team reach new heights of success? Well, you can now through Pro Cycling Manager 2020. In this game, you will get a chance to take part in more than twenty official stages of the Tour de France, and be a part of more than two hundred races!
This means you get to be a part of more than 600 stages in this game! You can also manage the spirits of your cycling team so they are productive and do well. This is a critical aspect of the game because you need to make sure your team is doing well so they can be as successful as they can be!
You know what's more? You can develop strategies in real-time, make analytical and calculated decisions for your team, view a lot of spreadsheets, and gradually make your team the strongest one out there in the cycling world!
This game is amazing because it provides with you much more to do than what is just happening on the road. This means that as a manager, apart from your team's performance on the road, you will be required to make sure everything else is up to the mark too. This is why this game is more than just your average race management game.
An important aspect of Pro Cycling Manager 2020 is to bring in new cyclists to your program so you are also responsible for coming up with a youth program that is strong. You can take them to training camps, scout new cyclists, and work on the development of the cycling team that you already have in place.
You will also be responsible for managing finances, handling sponsors, and managing suppliers that provide you with equipment. This is why this game is much more than just handling cyclists. It encapsulates everything very well with a fresh business perspective that many other race management may miss out on. It is a race management game that is much more than just about race.
In short, the Pro Cycling Manager 2020 will provide you with an overall engaging and immersive experience that will keep you enthralled. If you love to cycle and dream about managing a team someday then this game is perfect for you to make your dreams come true at least virtually!
The graphics are high quality, the game structure is also quite well and if you don't want to break the bank then you can buy from one of our deals that offer a cheap Pro Cycling Manager 2020 price so that you can make your dreams come true even if you are on a budget.
What are you waiting for then? Go check out our deals and influence the cycling race world with your amazing skills and expertise. With an upgraded dashboard and an improved AI, you will get management experience that is nothing short of brilliant!
Release date
4 June 2020


Minimum Requirements*
OS:Windows 10 x64
Processor:AMD/Intel quad-core 3.0 GHz
Memory:8 GB RAM
Graphics:1 GB, AMD Radeon HD 7850/NVIDIA GeForce GTX 560
Storage:15 GB available space
STORE NAME
DESCRIPTION
ADDITIONAL INFO
PRICE

Premium

More Detail

Pro Cycling Manager 2020 Steam key





12 Reviews

3% coupon: GCP3

3.96€

Pro Cycling Manager 2020 Steam key

More Detail

Pro Cycling Manager 2020





6 Reviews

3% coupon: GCP3

4.48€

Pro Cycling Manager 2020

More Detail

Pro Cycling Manager 2020





2 Reviews

4.99€

Pro Cycling Manager 2020

More Detail

Pro Cycling Manager 2020 PC





2 Reviews

6.95€

Pro Cycling Manager 2020 PC

More Detail

Pro Cycling Manager 2020 PC





8 Reviews

21.79€

Pro Cycling Manager 2020 PC

More Detail

Pro Cycling Manager 2020





1 Reviews

3% coupon: AKS

23.71€

Pro Cycling Manager 2020

Premium

More Detail

Pro Cycling Manager 2020 PRE-ORDER Steam CD Key





10 Reviews

6% coupon: GCP6

24.43€

Pro Cycling Manager 2020 PRE-ORDER Steam CD Key

More Detail

Pro Cycling Manager 2020 PRE-ORDER Steam CD Key





3 Reviews

6% coupon: GCP6

24.43€

Pro Cycling Manager 2020 PRE-ORDER Steam CD Key