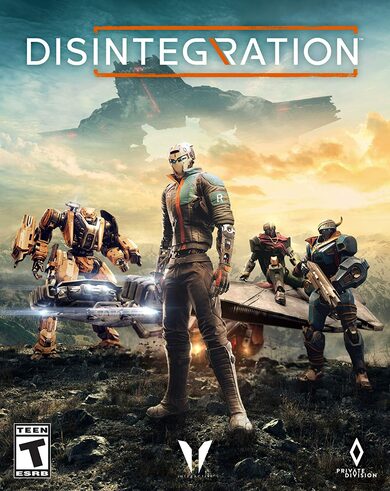 Buy Disintegration key
From V1 Interactive, the new 30-man autonomous improvement studio established by Marcus Lehto, the co-maker of Halo, comes Disintegration, a science fiction first-individual shooter consolidating FPS and constant system components. Set sooner rather than later on Earth, the main trust in human endurance is through Integration, a procedure created to protect human minds in mechanical armatures. You play as Romer Shoal, a previous Gravcycle pilot in order of a little obstruction power despite everything getting a handle on onto the blurring recollections of their human selves. With the oppressive Rayonne powers set on dispensing with the last remainders of human culture, it's up to Romer and his group of Outlaws to retaliate and reboot mankind. Pilot an assortment of weaponized Gravcycles and order your group on the ground by utilizing an assortment of one of a kind unit capacities and authority of your very own arms stockpile to overwhelm the fight.

Not with standing the exciting single-player battle, Disintegration highlights frantic PvP multiplayer where pilots and their teams contend in three energizing game modes over an assortment of maps.

• Tactical Gravcycle battle:

Pilot a vigorously outfitted Gravcycle highlighting an assortment of capability, mobility, and capacities. Likewise order your group on the ground, guiding them to assault targets, get things, and utilize their exceptional capacities to reverse the situation in fight.

• Riveting single-player battle:

From Marcus Lehto, the co-maker of Halo and innovative executive of Halo: Reach, comes an all-new science fiction adventure. Play as Romer Shoal and face the Rayonne, a rising worldwide armed force set on killing what survives from mankind.

• Frenetic multiplayer activity:

Fight over an assortment of maps in three serious, group based 5v5 multiplayer modes. Pick your most loved Gravcycle and lead your group close by your partners, going up against contradicting pilots to win objective-based matches.

• Customize your groups:

Each multiplayer group has their own individual look and character, alongside changed ranges of abilities and playstyles. Ace your preferred group and modify your involvement in an assortment of skins, pennants, identifications, and acts out.


Release date:
June 16, 2020


Minimum system requirements
System requirements: Windows 10 64-bit
Processor: Intel Core i5-2400 / AMD Ryzen 5 1400
Memory: 8 GB RAM
Graphics: GeForce GTX 570 or Radeon HD 7850
Storage: 15 GB
STORE NAME
DESCRIPTION
ADDITIONAL INFO
PRICE
More Detail

Disintegration





6 Reviews

3% coupon: GCP3

4.73€

Disintegration

Premium

More Detail

Disintegration





12 Reviews

3% coupon: GCP3

4.85€

Disintegration

More Detail

Disintegration (PC) - Steam Key - GLOBAL





3 Reviews

5.29€

Disintegration (PC) - Steam Key - GLOBAL

More Detail

Disintegration CD Key For Steam: GLOBAL (works worldwide)





2 Reviews

9.22€

Disintegration CD Key For Steam: GLOBAL (works worldwide)

More Detail

Disintegration





1 Reviews

3% coupon: AKS

10.48€

Disintegration

More Detail

Disintegration PC





2 Reviews

14.95€

Disintegration PC

More Detail

Disintegration





2 Reviews

29.99€

Disintegration

More Detail

Disintegration PC (EU)





8 Reviews

33.59€

Disintegration PC (EU)

More Detail

Disintegration





1 Reviews

34.95€

Disintegration

More Detail

Disintegration (PC) - Steam Gift - EUROPE





3 Reviews

35.57€

Disintegration (PC) - Steam Gift - EUROPE

More Detail

Disintegration





11 Reviews

36.48€

Disintegration

More Detail

Disintegration





1 Reviews

36.49€

Disintegration

More Detail

Disintegration PC (WW)





8 Reviews

36.89€

Disintegration PC (WW)

More Detail

Disintegration PC





1 Reviews

3% coupon: GCP3

39.58€

Disintegration PC

More Detail

Disintegration





1 Reviews

41.24€

Disintegration

Official

More Detail

Disintegration





1 Reviews

43.99€

Disintegration

Official

More Detail

Disintegration





1 Reviews

43.99€

Disintegration

More Detail

Disintegration





1 Reviews

44.99€

Disintegration

More Detail

Disintegration PC





1 Reviews

3% coupon: GCP3

46.55€

Disintegration PC

More Detail

Disintegration





1 Reviews

48.99€

Disintegration

Official

More Detail

Disintegration





1 Reviews

49.99€

Disintegration

More Detail

Disintegration





1 Reviews

49.99€

Disintegration

Official

More Detail

Disintegration





1 Reviews

49.99€

Disintegration

Official

More Detail

Disintegration





1 Reviews

49.99€

Disintegration

More Detail

Disintegration





1 Reviews

49.99€

Disintegration

More Detail

Disintegration





1 Reviews

49.99€

Disintegration

More Detail

Disintegration





6 Reviews

3% coupon: GCP3

49.01€

Disintegration

More Detail

Disintegration EU Steam Altergift





3 Reviews

10% coupon: GCP10

47.36€

Disintegration EU Steam Altergift

More Detail

Disintegration Steam Altergift





10 Reviews

10% coupon: GCP10

48.26€

Disintegration Steam Altergift

More Detail

Disintegration EU Steam Altergift





10 Reviews

10% coupon: GCP10

48.26€

Disintegration EU Steam Altergift